Connecting with readers

There are the Jakarta Globe readers in every corner of Indonesia, and, thanks to our website, all around the world. This newspaper is all about the Indonesian story – Indonesia's place in the wider world. It is designed to appeal to anyone who cares for the country and is committed to building its future.
Its language, English, is a gentle reminder that Indonesians must as other nations are also learning to master ths global language. This is happening, and ever-higher standards mean that our reader base grows daily. Certainly, English fluency still tends to mark our readers out as well-educated, high-achieving and cosmopolitan, but our target of appealing to the students and graduates of today connects us to a generation that will grow up with broad spending power and access to consumer information.
English and our international outlook also give us a high level of visibility to resident expatriates and visitors from overseas, and the attendant deep well of spending power. Our mission to educate, inform and join the debate over Indonesia's development golas will give us and editorial authority that makes the newspaper a high influence advertising and enviroment.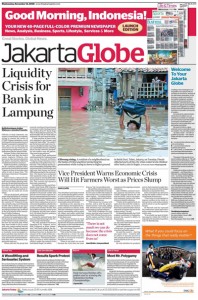 Circulation — Where will we be available ?
The Jakarta Globe is a paper for Indonesia, with long-term plan to extend circulation to cities with large Indonesian populations, starting from launch with Singapore. English-speaking readers are concentrated in Indonesia's urban and resort industry areas, and we will initially publish in ;
Singapore : 10.000
Jakarta : 45.000 * ( Includes Central and Greater Jakarta )
Bandung : 2.350
Medan : 2.350
Surabaya : 2.350
Pekanbaru : 2.100
Balikpapan : 1.150
Bali : 4.700
OUR readership base in Indonesia
59 % Indonesians ( 240.000 )
22 % Visitors ( 87.000 )
19 % Expatriates ( 80.000 )
Our readers in detail
Indonesians
The quarterly AC Nielsen Media Study, the benchmark for print media measurement in Indonesia, demonstrates (see note) a potential primary reader base – defined as English-literate Indonesians who read English news media, watch pay-TV or travel to English-speaking countries – of at least 240.000. If this definition is broadened to include all English-literate Indonesians, the figure rises to at least 1.3 million.
Primary reader base
This is an exclusive subsection of the broad base with a exceptional socio-economic profile :
60 % are male
53 % live in households with monthly income of Rp 4.5 million or more. Of this figure, nearly half earn more than Rp 7.5 million and over a quarter earn more than Rp 10 million
24% are aged 15-24, 39% are 25-34 and 37& are 35+
52 % are white-collar workers, 19% are students and 7% are entrepreneurs
88% have a banck account, 69% use the internet, 98% have a mobile phone, and 41% have a car
===> News for the future : 48% of the broad reader base is aged between 15 and 24, suggesting a sustainable and growing readership.
Note : The Nielsen Media Study Q2 2008 included a sample of 12.192 people across the cities and suburbs of Jakarta, Surabaya, Bandung, Medan, Semarang, Makassar, Yogyakarta, Denpasar and Palembang. Interviews were conducted face-to-face, interviewees were selected using stratified random sampling, and analysis was restricted to respondents at least 15 years of age. The primary reader base composes 0.8% of sample, and broad reader base 5.5%. Reader numbers were based on the populations of the survey area of 37.5 million, after excluding the under-15s.
Our readers in detail
Expatriate professionals and their families, and visitors to Indonesia.
Expatriates
There were 75.000 foreign workers in Indonesia in 2007 – a steep growth from just 20.000 in 2004 as foreign companies and individuals have re-restablished business ties following the turbulence of the late 1990s, Ministry of Manpower and Transmigration figures show.
A core of about 15 nationalities are represented, with a majority – in particular those from Australia, the US, India, Britain and Malaysia – displaying a high degree of English fluency. About 65% are located in and around Jakarta.
After including workers' family members but considering only those comfortable reading in English, the number of potential English-language newspaper readers reaches 80.000 .
Visitors
In 2007, Indonesia hosted 5.5 million visitors who stayed an average of nine days each, according to Ministry of Culture and Tourism figures. This length was affected by short-break visitors from Malaysia and Singapore entering Sumatra and staying an average of just four days; by contrast, long-haul visitors from Australia, Europe and North America stay for an average of more than a fortnight. Almost a quarter of visitors arrive in Indonesia through Jakarta, and just over a quarter come to Bali.
The potential to reach English-literate readers among this number is huge; averaged over a year (total annual visitors days divided by 365), it reaches a daily figure as high as 87.000 .
===> Growth story 275% more foreigners are working in Indonesia now than in 2004, suggesting expanding readership potential.
HOW TO REACH READERS
Advertising in the Jakarta Globe is simple to do and is simply the best way to reach affluent newspaper readers in Indonesia.
What does the paper look like ?
The Jakarta Globe is a morning newspaper, published six days a week, Monday to Saturday
It has 48 full color pages, consisting of three section of 16 pages : News & Opinion, Business & Sports and Life & Times.
The printed page area is 540 mm x 325 mm, with a 7-column advertising grid.
===
Now, the Jakarta Globe have been stop publishing,

there's no more Jakarta Globe newspaper

, but you still can consider the online version of Jakarta Globe
===
Untuk info pasang iklan di Jakarta Globe Online, silakan hubungi :
Untuk info pemasangan hubungi :
Hotline : 021-5436 1493
HP / WA : 0822 9900 8066
Email : marketing@doremindo.com