Koran Mandarin SHANGBAO – 商报 (印尼商报)

SEJARAH & LATAR BELAKANG
Harian Indonesia Shang Bao diterbitkan pada tanggal 17 April 2000 dan tergabung dalam Bisnis Indonesia Group
Shang Bao terbit untuk memenuhi kebutuhan akan harian berbahasa Mandarin yang dapat menyajikan berita secara cepat, aktual, faktual dan terpercaya. Berita yang disajikan Shang Bao berasal dari berita dalam maupun luar negeri yang meliputi antara lain berita ekonomi dan bisnis, sosial, budaya, politik, entertainment, lifestyle, olahraga dan lain sebagainya.
Terbit sebanyak 20 halaman setiap hari Senin sampai Sabtu, Oplah 55.000 eksemplar.
Pembaca Harian Shang Bao meliputi para eksekutif dari dalam dan luar negeri yang berkunjung ke Indonesia seperti China, Singapore, Taiwan dan lainnya. Selain itu pembacanya juga meliputi para profesional dan wirausahawan baik itu pria maupun wanita dari kalangan menengah, dan berusia antara 30 – 65 tahun.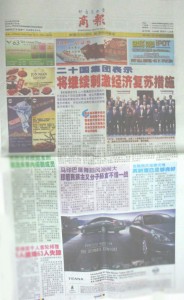 PROFIL PEMBACA
60 % : Berpendidikan Tinggi
40 % : Berpendidikan Menengah
80 % : Bekerja di Sektor Swasta
20 % : Bekerja di Sektor Lain
40 % : Menduduki Jabatan Manager ke Atas
60 % : Menduduki Jabatan Lainnya
AREA PENYEBARAN
Distribusi : Nasional
Oplah : 65.000 eksemplar
—
Indonesia Shang Bao newspaper published on April 17, 2000 and incorporated in Indonesia Business Group (Bisnis Indonesia), a business and finance newspaper published Chinese language in Indonesia. 20 pages published every Monday to Saturday, with a circulation of 65,000 copies, read by more than 1 million people.
Shang Bao is published to meet the daily needs of people that can speak Mandarin,Shang Bao provides actual, factual and reliable news. Shang Bao presented news from local and foreign news which includes, among others, economic and business news, social, cultural, political, entertainment, lifestyle, sports and so forth.
Shang Bao daily readers include executives from domestic and overseas to Indonesia, such as China, Singapore, Taiwan and others. In addition, readers also include professionals and entrepreneurs who work in the private sector, both men and women from the middle and aged between 30-65 years, with the level of secondary education.
---